Here we have our own beach by the pond, we have made the beach bigger and more accessible! You can take a bath, sunbathe and swim in peace and quiet, small children can play in the shoreline far from the rowdiness and crowds of some of the public beaches.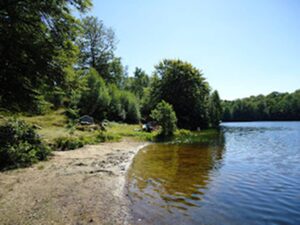 If you want to swim in a larger forest lake we recommend Dagstorpssjön. Here you can find many small places to swim at, for example here and here.
If you want to swim with bathing jetties and an ice cream kiosk instead, then Vaxsjön's bathing place is only 3 km away from Ullstorps Stugor.