Our hiking trails
We have made three hiking trails here around Ullstorp and they are at 2, almost 3 and 4 km.
Green Ullstorps trail, 2 km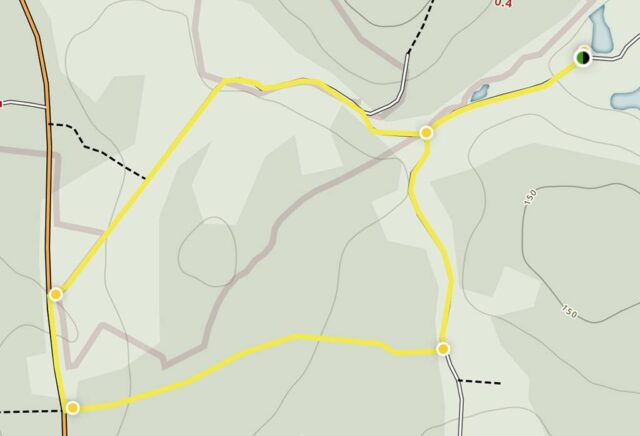 The loop starts in front of Ullstorp's Reception. Follow our green markings. Walk on the road leading to Kvarndammen and the waterfalls at Ullstorp's Stugor entrance, there are green markings along the entire trail.
Turn left after the waterfall and follow the gravel road up a hill, after a little while you will see our green markers and Skåneleden's orange markings down to the right.
Follow the markings down through the beech forest, over some footpaths in the wet area of ​​the valley and then up a hill.
Once up, you arrive at the "big road" (the asphalt road), follow it to the right (Skåneleden's orange markings go straight ahead) then turn off to the right again on "our" gravel road. You see the sign "Ullstorps Stugor 1km" on the left side.
Follow our road between the sheep pastures until you reach the Kvarndammen and the waterfalls again,
Enter our road to the left at the intersection and then you will see Ullstorp's Cottages and you are "at home" again.
The Red Ullstorps loop, 2.8 km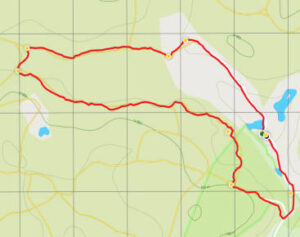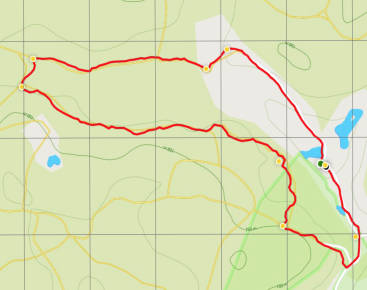 The loop starts in front of Ullstorp's Reception. Follow our red markings. Walk past the pond, continue up towards Bergshus, there are red markings along the entire trail. Turn left after the "Dane's House" (the little red house which is after Bergshus).
Walk through the gate into the pasture, follow the path through the pasture and out through the next gate. Don't forget to close the gates behind you.
Follow the path and our red markings, it will after a while turn into an old forest road, continue until you see a red arrow, there you will turn down to the left on a small forest path, continue over a small bridge.
Then you come up on a new forest road, here you see yellow markings (Frostavallens 5 km track). Follow our red and Frostavallens yellow markings. After a while, both markings turn off from the forest road and up to a lookout point, there is a fairly steep path upwards. Once up there is a great view of Bergshus, Alestugan, Bokestugan and Ullstorps pastures. Soon you will arrive at a camp windshield. Here you can have coffee, rest and barbecue !!
The trail continues through the beech forest up on the hill.
Then you arrive at our gravel road and here the yellow trail goes to the right but you will follow our red markings to the Left. Down the hill.
Here you see our sign Ullstorps Stugor! Follow the gravel road to the left past the waterfalls and the mill dam and you will soon see Ullstorp Cottages and you are "home" again!
Blue Ullstorps loop, 4 km